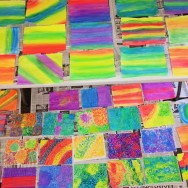 Art is everywhere and plays an important part in our spiritual journey. God is concerned with the detail, quality, and beauty of what we each do in our home, church, and job. Whether it's cooking, painting, writing, gardening, or singing, He's given each of us ability to create, imagine, explore, and dream.
As I grow, the Lord has been encouraging me to look at life through the eyes of an artist. When we take this step, we will be able to:
1. Completely identify with having a creative God who made us in His image and discover creativity within each of us.
2. Fully understand what it means when the Bible says God is the Potter and we are the clay.
3. Truly comprehend that we are God's masterpiece and put our faith in action by utilizing our creative gifts to serve.
Please check out the photos below from my classes. The artwork is made by some extraordinary women who have stepped out of their comfort zones to practice creative expression.
"For we are God's masterpiece. He has created us anew in Christ Jesus, so we can do the good things He planned for us long ago" (Ephesians 2:10). "Yet you, LORD, are our Father. We are the clay, you are the Potter; we are all the work of your hand" (Isaiah 64:8).