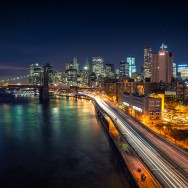 Writing articles for my church's newsletter has rewarded me with a great deal of joy. Each month I have the special privilege of highlighting what God's doing in various ministries and getting to know many wonderful pastors, leaders, and volunteers who have a passion to serve. As these individuals choose to pursue God's beautiful dream for their lives, I'm always amazed at how He continues to use them in a powerful way to provide the emotional, spiritual, financial, and physical needs of others.
Witnessing numerous men, women, teens, and even children using their heart, mind, and hands to glorify our Savior is a gift. It can inspire and remind us to develop a servant's heart and continue to follow God's call despite any challenge or obstacle we face. As we celebrate the birth of our King this Christmas, may we all decide to serve Him by spreading His love to everyone we meet. For the Bible encourages us to: "Never be lacking in zeal, but keep your spiritual fervor, serving the Lord" (Romans 12:11).
Why is serving an important part of our spiritual journey? How do you enjoy serving in your home, community, country, and/or world?