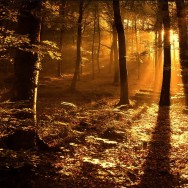 When the world around us feels like it's falling apart, I'm so thankful we can find rest and comfort in the arms of our Savior. Rest is essential along our journey towards growing both emotionally and spiritually. It gives us the strength and perseverance needed to continue carrying out what we were called to do.
This month my family and I traveled to a cabin in the Poconos. I admit the idea of being in the middle of the woods for a weekend terrified me at first. However, I knew my husband and two precious children were looking forward to it and I decided this was something special I shouldn't miss. To my surprise the trip was refreshing. Taking a break from our busy routines to enjoy moments of quietness and the view of God's magnificent creation with people I love is a memory I will always treasure.
Whether we are spending time alone or with a community of believers, let us remember we will be rewarded with eternal peace and strength when we set our hearts on the One who never grows tired or weary. For God has promised, "My Presence will go with you, and I will give you rest" (Exodus 33:14).
Are you dedicating some time to rest along your spiritual journey? Which places have you traveled to that resulted in gaining much needed rest?