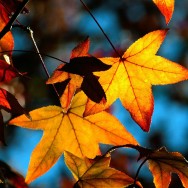 Every day I am amazed at how God makes a lasting impression. Through observing the splendor of His creation or watching how He's dramatically changed a person's life, I'm so thankful we can find His fingerprints everywhere.
As I grow, the Lord is bringing to my attention more and more people who have witnessed His creative hands move and have stepped out in faith to share their testimony with others. Whether it's through a phone call, online message, video, or book, I greatly admire a person's choice to recognize and record God's touch on his or her life. It's always a clear reminder to me that our Creator's hands are continuously working and there's evidence of it all around us.
Let us remember to pause and reflect on God's fingerprints of love and grace. In the midst of joy and pain, we can choose to hold tightly on to our Heavenly Father's hand and take pleasure in noticing how He creatively leaves an eternal mark on our lives.
"For since the creation of the world God's invisible qualities—His eternal power and divine nature—have been clearly seen, being understood from what has been made, so that people are without excuse" (Romans 1:20).
Where have you noticed God's fingerprints? When you recognize God's hand working, how are you sharing it with others?