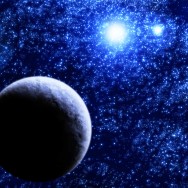 Watching children develop a passion for the visual and performing arts is truly wonderful. Witnessing them obey the Lord, use their gifts to glorify Him, and be able to shine like stars in the sky brings me even greater joy.
This month I was extremely honored to have a manager in New York recognize my 8-year-old daughter's love for singing and acting. After a significant amount of prayer and research, we decided to sign the contract. As my daughter begins this new adventure and she continues to work hard to develop her skills, I've a gained an intense desire to find ways to teach her the importance of letting others see she's unmistakably a child of God.
During my process of learning, I was frequently reminded how we were each called to be the light of the world. When we make the commitment to grow and choose to become a role model for the next generation, it means we're not ashamed of our faith and we don't keep this light hidden. Christ is our energy source and we shine brightly for Him in each opportunity we are given.
"In the same way, let your light shine before others, that they may see your good deeds and glorify your Father in heaven" (Matthew 5:16). "And those who are wise shall shine like the brightness of the sky above; and those who turn many to righteousness, like the stars forever and ever" (Daniel 12:3).
Are you boldly letting your light shine? Is Christ your energy source? How are you encouraging the next generation to shine brightly?