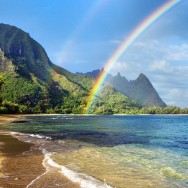 Watching someone firmly hold on to God's promises in the midst of hardship can be a powerful, life-changing experience.   I'm often inspired to grow in my faith when I observe others trying to trust God and His Word in all circumstances.
One special woman and her testimony will always stand out clearly in my mind.  She endured a painful miscarriage and two long years of trying to conceive.  Yet, with the support of her husband and many believers, she made the choice to stand firm in God's promises and not falter in her faith.  There were days filled with deep sadness and frustration.  However, I greatly admired her courage to use the pain to change her into the strong woman God desired her to be.  In her situation, she eventually gave birth to a son and I rejoiced when I witnessed his birth in the hospital.  This summer as I look forward to celebrating this precious boy's first birthday, I'm reminded that God is faithful and He promises to love, cherish, and adore each of us.
"And being fully persuaded that, what He had promised, He was able also to perform" (Romans 4:21).
Do you trust God and His Word?  Have you witnessed someone stand firm on God's promises?   What steps are you taking to hold on to His amazing promises along your spiritual journey?