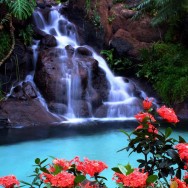 My husband and I were tested a great deal this month.  Car repairs and medical bills significantly increased, and our account became dangerously low.  During the trial, the Lord brought to my attention many courageous people who were living by faith.  Their powerful stories I read online, throughout the Bible, and in various books reminded me and my husband to be faithful to God no matter what we face.  As we made the decision to be obedient and turn our anxiety over to the Lord, we were rewarded with an unexpected miracle.  A beloved brother and sister in Christ felt led to give us an envelope filled with beautiful words of encouragement and a generous amount of money.  Tears fill my eyes every time I think how these individuals were used by God to demonstrate His amazing love, faithfulness, and promise of provision.
When we commit to our journey towards maturity, I learned we put our faith in action by confidently following God's dream for our lives and trusting He will supply for all our needs.  "Faith is the confidence that what we hope for will actually happen; it gives us assurance about things we cannot see" (Hebrews11:1).  "In the same way, faith by itself, if it is not accompanied by action, is dead" (James 2:17).
Have you made the choice to live by faith and trust God?  How are you putting your faith in action?