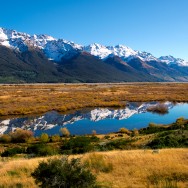 Along my spiritual journey, I've been enjoying the opportunity to taste, feel, hear, and see the remarkable creativity of God.  From gazing upon shimmering stars in the sky to witnessing an individual's life completely changed by Christ, I'm provided with the comfort in knowing we have an extraordinary Creator who is the source of all creativity.
In Genesis 1:27 we are told, "So God created man in His own image, in the image of God He created him; male and female He created them." As we grow, we will discover creativity is within each of us.  We were all born with the desire to create, construct, design, build, and make things.  While we enter the New Year with a longing to establish fresh goals, I pray that we remember our creative gifts can be an amazing expression of our faith. Whether we are blessed with the ability of solving problems in unique way or given the skill of taking beautiful photographs, may we demonstrate Spirit-led creativity in any new task or project we are assigned.
Do you believe creativity is within each of us?  Have you asked the Lord to help you create goals for the New Year?  How do you plan on using your creative gifts for God and others?