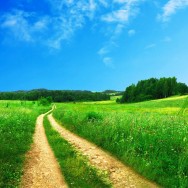 My six year old son joined a soccer team for the very first time this season.  Despite his team losing the first game, he was still happy to have been given the chance to participate in the fun sport.   However, one game lost soon turned into being defeated by seven more teams.   Lack of motivation to continue the sport began entering my son's mind and his passion for the game started to weaken in his heart.
Although it saddened me to see my precious son have to go through this trial, the Lord reminded me that this was an awesome opportunity for both of us to grow emotionally and spiritually.  As I encouraged him to pray with me and read God's Word to help us cope with the disappointment, we began to have an eternal perspective on the situation and my son was rewarded with strength to press on.
This temporary world may sometimes give us pain, grief, and hardship.  I learned we will succeed in moving forward together when we continue to lift our eyes up to our Savior and shelter ourselves with His eternal promises.  "For everything that was written in the past was written to teach us, so that through endurance and the encouragement of the Scriptures we might have hope" (Romans 15:4).
How has God helped you gain endurance, perseverance, and strength to continue following His plan for your life?  When you face trials, which verses have given you hope to press on?  How are you helping others to move forward in their lives?