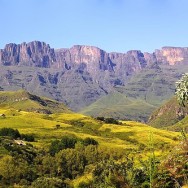 I find it remarkable that we can allow God to fill us with His power when we are weak or uncomfortable.   Becoming mighty and mature sons and daughters of the King will require us to enter unfamiliar places.  I'm learning this may mean stepping out of our comfort zones in order to be obedient to our Creator's voice.
My mother had the incredible opportunity to travel to South Africa on a mission trip this month.  She and a team of other believers followed God's call and shared the love of Christ with numerous children.  If my mother had let fear stop her from going on this adventure, she would have missed being rewarded with the most meaningful, amazing moments of her life.
Our Heavenly Father promises, "My grace is sufficient for you, for my power is made perfect in weakness" (2 Corinthians 12:9).  We can choose to surrender our plans to the Lord and trust that He will give us the courage to try something different.   Whether it's traveling to another country or simply signing up for a new class, we will be able to witness a beautiful miracle, gain tremendous emotional and spiritual growth, and experience God's power at work in us.
In what ways are you stepping out of your comfort zone to follow God's call?   How is His power being made perfect in your weakness?