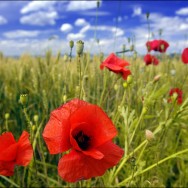 Building a lasting relationship without love is impossible.  Facing obstacles without love is hopeless.  Trying to transform into strong, healthy, and mature individuals without God's amazing love is out of the question.
This month I celebrated my birthday.  Experiencing peace and joy as I turned one year older would have been unachievable without the power of love.  I'm very thankful the Lord answered my prayer by surrounding me with people I adored on that special day.
The Bible encourages us, "Give thanks to the Lord, for He is good; His love endures forever." (Psalm 118:29).  I'm continuously striving to grasp the depth of God's perfect love and discover how to develop Christ-centered love in each of my relationships.  When we open our hearts to our Creator's extraordinary love, I'm learning we will enjoy His presence and yearn to change into the remarkable men/women He desires us to be.  As our passion for Christ grows, we can allow Him to work through us and rely on His genuine love to pour out into our relationships with people.
Do you feel surrounded by God's amazing love?   What are you discovering about His love?   How is the Lord encouraging you to practice it with others?