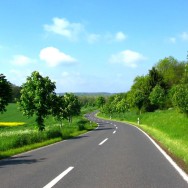 Our spiritual lives are much like running a race.  We may have moments of intense excitement and determination, or times when stress and weariness seem too hard to bear.   If we are committed to growing, we will begin to understand that remaining in the race involves endurance, obedience, and perseverance.  Speed is not the primary focus, but consistency and patience as we run.
I confess I sometimes get discouraged when I think others appear to be further down the race.   As I'm learning to fix my eyes on Christ, He is giving me the power and fortitude to move towards the finish line.   I'm extremely thankful we can trust the Lord to place people along the way who will motivate and encourage us when we are tempted to quit.
While we can genuinely appreciate the individuals who are cheering us on, I've discovered it's essential we continuously remember our deepest needs will be found in Christ.  He is our mighty Deliverer, Redeemer, Comforter, and Strength.   He will always be the one to bring us to complete victory.   "So do not throw away your confidence; it will be richly rewarded. You need to persevere so that when you have done the will of God, you will receive what he has promised" (Hebrews 10:35-36).
Are you running the race of faith?   Do you firmly believe the sacrifice and cost is worth it to remain emotionally and spiritually healthy?   How does God's Word give you hope and help you run with perseverance?