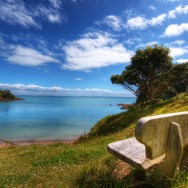 As we grow, our Creator will plant dreams, visions, and desires in our hearts and minds.  When we follow God's voice, we use these passions for His kingdom and can experience lasting joy as we make a difference in the lives of others.
I admit I have moments when I question God's call for my life.  During those times, I often find myself asking the Lord to provide evidence that I am making wise decisions and following His perfect plan.   I've discovered that when I slow down my life and invest in my relationship with God and others, I begin to receive answers, encouragement, and a clear confirmation that I am on the right path.
Sometimes our own way may seem logical and wise according to the world's standards, but I've learned we can end up traveling down a road that wasn't part of God's plan.   As a result, we only receive temporary comfort and brief happiness.  Our Heavenly Father promises us in James 1:5, "If any of you lacks wisdom, you should ask God, who gives generously to all without finding fault, and it will be given to you."   If we rely on the Lord's perfect wisdom and let Him direct our paths, we gain an eternal perspective and are rewarded with an amazing purpose for our lives.
Have you asked the Lord for wisdom, guidance, and direction in your life?   What has God taught you about following His call?