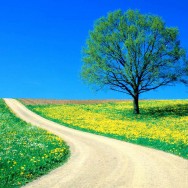 New changes in my life sometimes produce mixed feelings of fear, anxiety, joy, or excitement.  Then other times I desire change, but I have to wait patiently for God's timing.  I've discovered our jobs, homes, and even certain relationships may require change in order to allow God to continuously shape us into His image.
Change is necessary. For emotional and spiritual maturity, we need to allow the Holy Spirit to change us and transform our hearts and minds.  Romans 12:2 states, "Don't copy the behavior and customs of this world, but let God transform you into a new person by changing the way you think.  Then you will learn to know God's will for you, which is good and pleasing and perfect."
As I commit to growing, I find comfort in knowing that our Heavenly Father never changes.  He was and will always be perfect.   We can trust our loving Creator and agree that His way is better than our way.  When we let Him change us into what we were created to be, we get the amazing opportunity to experience a greater intimacy with God and healthier relationships with people.
What new changes are you experiencing in your life?   Are you relying on the Lord to help you?