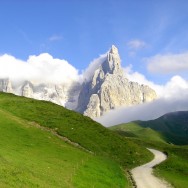 I was recently asked if I would speak at my church's upcoming Ladies Retreat.  My heart immediately leaped with excitement at the thought of sharing my testimony to a large group of women.  I accepted the challenge and started thinking about this wonderful opportunity I've been given.   However, my feelings soon turned to fear and anxiety.   I wondered, "Will I be able to clearly deliver the message I've been called to proclaim?"
In search for the answer to my question, I was led to one of my favorite stories in the Bible.  It includes Moses begging God to get him out of a mission he was asked to fulfill.  Moses felt the need to remind God that he was not an eloquent speaker.  "The Lord said to him, 'Who gave human beings their mouths? …It is not I, the Lord?  Now go; I will help you speak and will teach you what to say" (Exodus 4:11-12).
I find it extremely comforting to know our Heavenly Father will provide us with the words when needed and we don't have to worry.   When we are on the journey towards growing both emotionally and spiritually, we surrender our fears to the Lord and we fully depend on Him to give us courage and strength.  We are able to enjoy His peace because He promises,  "For I am the Lord, your God, who takes hold of your right hand and says to you, Do not fear; I will help you" (Isaiah 41:13).
What has God taught you about becoming courageous?   Do you rely on the Lord to give you the courage and strength to conquer His goals for your life?