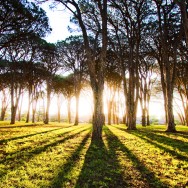 When we grow, we will begin to think about the legacy we'll leave behind and we will have an intense desire to make a difference in this world.   We will experience empathy when we see someone suffering and we will start to feel compassion for those who are in need.  More importantly, we will long to know God's call for our lives and we will wish to take steps towards following His incredible plan.
As we embark on the journey towards emotional and spiritual maturity, I've discovered we will automatically begin making lasting impressions on people's lives.  We don't need to desperately figure out ways to leave an amazing legacy and we don't need to be discouraged when we think about how our lives will be remembered.  We can rely on our Creator to guide us because we know, "For nothing is impossible with God" (Luke 1:37).  Then as we develop a deeper relationship with the Lord and maintain genuine relationships with people, Christ will be able to brightly shine through us.  As a result, we will impact more lives than we could ever imagine.
What steps is God leading you to take to make a difference in this world?  Whether you are meeting the emotional, spiritual, or physical needs of others, how are you relying on your Creator to help you?  Is He connecting you with other believers who have a similar passion and calling?