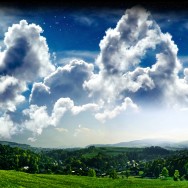 We were given many special abilities to communicate our emotions to God through songs, poems, stories, prayers, and artwork.  However, a deep relationship with the Lord not only includes crying out to Him, but requires listening and hearing Him answer us, too.   Sometimes it may seem our Creator is distant and we may mistakenly think He is not speaking.  As I grow, I am learning not to misinterpret the moments of silence I may experience with God and even with people.   Silence does not indicate that the Lord abandoned us and it doesn't always suggest that a person wants to end a relationship with us.  If we desire to hear the Lord communicate, it's important to spend quality time alone with Him and continue to learn how to build healthy relationships with people.  As I dedicate time to be alone with God, I can often hear Him speak through the powerful stories I read in the Bible.  As I enjoy developing Christ-centered relationships with people, I can hear God speak to me through others during a conversation, sermon, or prayer.
Jesus reminds us, "He who belongs to God hears what God says" (John 8:47).  As a follower of Christ, I am learning to ask myself every day, "Is my heart ready to listen to my Heavenly Father's voice?  Is my mind open to hear God's Word?  Is my body ready to take action and do what the Lord says?"  Whether I hear words of encouragement, hope, admonishment, or accountability, I'm truly thankful that God always communicates to me and all His children with love.
Have you experienced hearing God speak to you?  Are you misinterpreting moments of silence?  How do you prepare your heart and mind to listen to your Creator's voice?  Do you use the same approach with people?